The BMW M2 is prone to being stolen and with the keyless entry system it is easier than ever.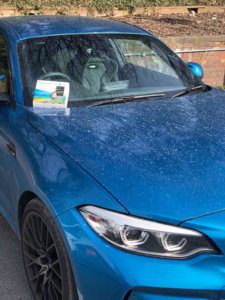 Although the keyless entry is a great feature for when you're carrying things or in a hurry, it's also very useful for thieves who keep up with the latest technology.
There are devices available that allow the thief to copy the signal from the original vehicle key remotely, tricking the car into thinking that the actual key is present. When the vehicle thinks the key is unlocking the car it also disarms any factory fitted security system.
Pandora Security System
At Enhance Car Audio & Security Ltd we recommend the
Pandora Security System
. This is a modular system that can include alarm, immobiliser, tracker and much more.
The
Pandora Mini
is Alarm and Immobiliser and starts from just £550 including vat and installation.
The
Pandora Smart Pro
is our most popular, it includes Alarm, Immobiliser and tracker from £1250 supplied & fitted including vat. The Smart Pro includes 6 months subscription* and the best feature in our opinion is that you
get a phone call if your alarm is going off.
All the Pandora systems have 128bit encrypted ID tags which can allow passive use of your vehicle through your OEM remote.
The mobile app gives you full control of your vehicle anywhere in the world (smart pro). You can immobiliser your vehicle, track it in real time, activate remote start, change settings, check status information (fuel level or battery voltage) and much more.
You can customise the various sensors on the app depending on where your vehicle is parked and the environment.
The ID/Transponder tag sensitivity can be adjusted to a a programmed distance or for some vehicles can automatically arm and disarm your vehicle when you are in range.