Enhance Car Audio & Security recently installed the Blackvue DR770X-2CH LTE Front & Rear Witness Camera with a 24-hour battery pack for this Bentley Continental GT Speed 2023, making it not only a pinnacle of automotive excellence but also a high-tech, surveillance-equipped masterpiece.
Due to the convertible roof, the technicians at Enhance placed the rear-facing camera discreetly on the roof above the rearview mirror. The witness camera is small enough to avoid blocking the rearview mirror but is still in a great location to capture any rear incidents with the roof up or down.
The Blackvue Witness Camera Upgrade
The Blackvue DR770X-2CH LTE Witness Camera is a state-of-the-art dash-cam, known for its exceptional video quality, cloud connectivity, and advanced features. When integrated into the Bentley Continental GT Speed 2023, it ensures the driver has an extra set of eyes on the road for any unfortunate incidents.
Here's what makes the Blackvue DR770X-2CH LTE Witness Camera upgrade so special:
1. High-Quality Recording: The Blackvue camera captures footage in stunning 4K Ultra HD resolution (for the 900 series models), ensuring that every detail is crystal clear. Whether you're recording scenic drives or monitoring your vehicle in parking mode, you'll have a visual record that's second to none.
2. Cloud Connectivity: With the Blackvue Over-the-Cloud service, you can remotely view and manage your camera from your smartphone. This means you can access live video feeds, track your vehicle's location, and receive push notifications for events like impacts or break-ins.
3. 24-Hour Battery Pack: Blackvue offers a specially designed 24-hour battery pack for their Witness Camera to ensure it can operate even when the car is parked, providing continuous surveillance (up to 24 hours per charge).
4. Parking Mode Protection: The camera automatically switches to parking mode when your Bentley is stationary. In this mode, it detects motion or impact and starts recording, giving you peace of mind when leaving your car unattended.
5. Impact and Motion Detection: The Blackvue Witness Camera features G-sensor technology that triggers recording when an impact is detected, preserving footage of accidents or vandalism. Motion detection further enhances security by capturing any suspicious activity around your vehicle.
6. Sleek and Discreet Design: The camera seamlessly integrates into the interior of the Bentley Continental GT Speed, maintaining the car's sophisticated aesthetics without compromising functionality.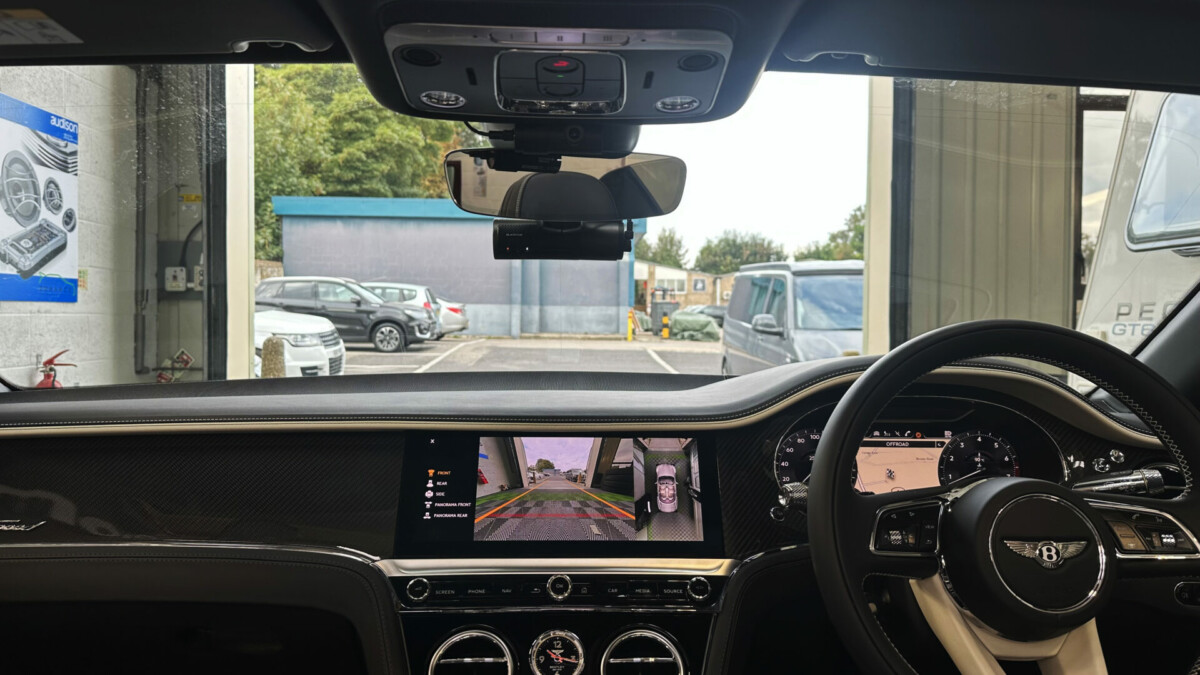 Give Us A Ring Today!
If you are seeking a company that not only delivers the highest quality of work but also goes above and beyond to understand and meet your audio needs, Enhance should be at the top of your list!
Give us a call today and learn more about how we can transform your vehicle! Get in touch with Enhance today via our online contact form, or give us a call at 01622 737393.