A classic car audio upgrade is always one of our absolute favourite projects. Our client's passion for their vehicles is infectious – and we can't help but become a little attached ourselves, especially when we get to be a big part of the restoration journey.
This is one of the reasons we love working on classic cars so much; they're like living history books, filled with stories and memories – and it's a privilege to play a part in bringing them back to life.
Our recent classic car audio upgrade project on a 1966 Volvo Amazon
A classic car audio upgrade is just one of the ways we love to help sympathetically bring these cars into the 21st century – to continue their story and enable new stories and memories to be made.
We recently completed a premium audio upgrade on a 1966 Volvo Amazon, which we showcased at our November Coffee and Cars event. This Volvo Amazon has been a long-term project here at Enhance, and we've worked closely with the customer to get his dream car exactly how he wants it.
About the Volvo Amazon
The 1966 Volvo Amazon is a classic car that has been beloved by drivers for decades. It features a unique, sleek design and a powerful engine, satisfying desires for both beauty and power. The Amazon was originally released in 1956, and the 1966 model was the last of the series. It featured a 3-speed manual gearbox (H6) and rear-wheel drive, as well as a tuned 1.8L inline-four engine in the 122S variant. It also had safety features not found in other cars of the time, such as three-point seat belts and disc brakes – making it ahead of its time in many ways.
The Amazon has been fully restored in recent years, making it look as good as new and ready for many years of driving pleasure. But, even when aesthetics, comfort and drivability are perfected, modern drivers expect a high-quality audio system to complete the premium driving experience. And that's where we came in to work our magic and make it happen!
A classy audio installation for a classic car
It's difficult to show how good an audio upgrade sounds from a video, but we hope this gives you an idea:
The audio installation was the latest phase of the upgrade project, and we couldn't be happier with how it turned out. It was important to the customer – as it is to most of you – to retain the classic, premium feel of the car.
The Volvo Amazon is a sleek, stylish little number. Its design is heavily based on classic American cars from the 1950s, and this 1966 model continued this theme beautifully with its white exterior and red leather interior restored to clean perfection.
It deserved the most sympathetic of classic car audio upgrades, but a result that also satisfied the customer's wish for the latest modern technology and the best possible audio experience.
So, we had to get our thinking caps on about how to achieve ultra-modern technological capabilities that could seamlessly integrate with the timeless and elegant design of the classic Volvo Amazon.
What a classic car audio upgrade looked like for this gorgeous Volvo Amazon: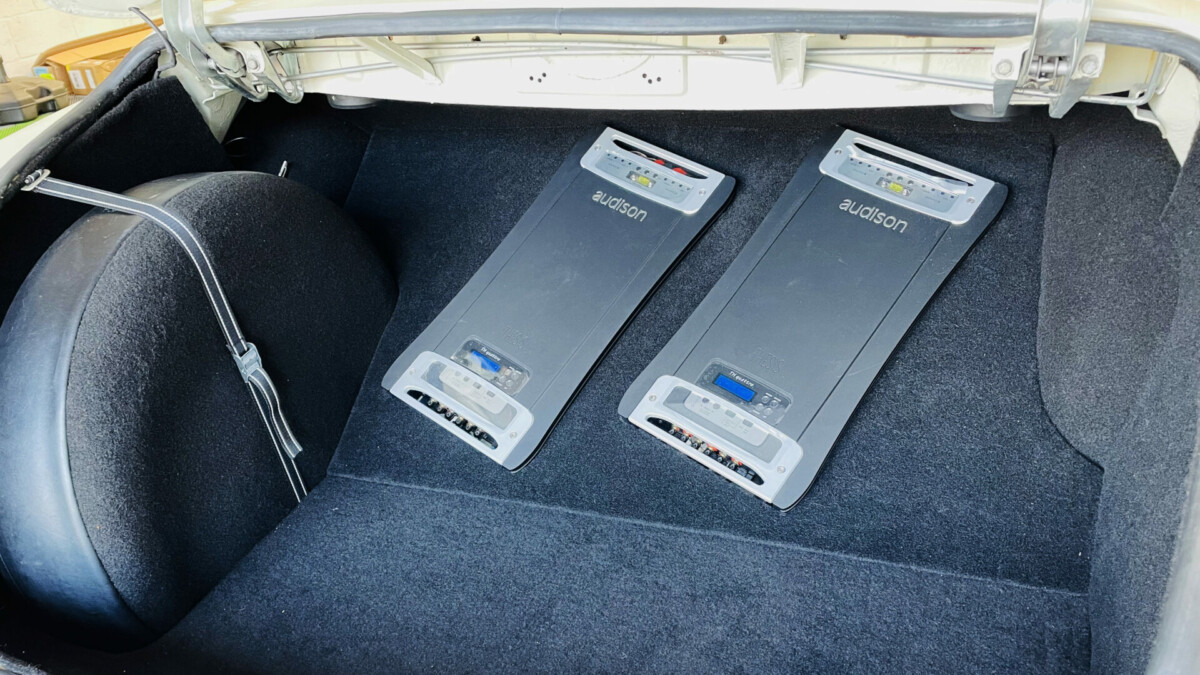 Enhance took care of the custom installation of the following:
2 x Audison Thesis Quattro amplifiers with Audison Thesis tweeters, mids and woofers:
https://www.fourcaraudio.co.uk/brands/audison/thesis/audison-thesis-th-quattro
https://www.fourcaraudio.co.uk/brands/audison/thesis
The Audison Thesis range is the pinnacle of Hi-End audio technology. With their technical perfection and peerless elegance, these amplifiers are the perfect choice for audiophiles who demand the best. They push the boundaries of excellence and rewrite the rules of audio amplification.
The Audison Thesis speakers are designed to provide a superior listening experience, with clear and detailed sound reproduction. They are perfect for upgrading your car's audio system and enjoying superior sound quality. In this classic car audio upgrade, the custom under and over dash installation worked incredibly well with the American classic-inspired Volvo design.
Rear Audison Voce speakers:
https://www.fourcaraudio.co.uk/brands/audison/audison-voce/audison-voce-av-k6
Combining the experience of the renowned Thesis line with the latest audio technology, these voce speakers provide a superior sound quality that will take your listening experience to the next level.
Hertz MPS 10″ sub:
https://www.fourcaraudio.co.uk/brands/hertz/mille-pro/hertz-mille-mps-250-s4
The Hertz MPS 10″ subwoofer is an innovative shallow-mount subwoofer that offers superior sound quality and performance – without being visually intrusive, which was so important with a vintage car audio installation.
Audison SR1.5 sub:
https://www.fourcaraudio.co.uk/brands/audison/audison-sr/audison-sr-1500
The Audison SR1.5 sub is a powerful Class D amplifier in a compact form. We needed compact solutions for aesthetic appeal without compromising performance for this classic car audio installation.
Audison Bit one Virtuoso processor:
https://www.fourcaraudio.co.uk/brands/audison/audison-bit/audison-bit-one-hd-virtuoso
The Audison Bit One HD Virtuoso processor is the ultimate sound shaper putting the advanced level of controls in the hands of the installer to mould your car sound to the highest possible quality. Four Car Audio describes this as "the ideal beating heart around which to build a full DA system", and as car audio installers, we can't help but agree.
A high-end audio upgrade for a classic car with a brilliant result
While Audison may not be a household name, they are true experts in their field and cater specifically to the Car Audio market. Since their introduction to the UK in 2007, they have been leading the way in innovation, dedicating themselves to researching and developing the best technology for audiophiles.
The system was designed to be as discreet as possible and make the most of the space available while giving the client the best sound quality possible from a car audio system. Despite being thrilled, the client has since been back to upgrade the sub! We think this project is always going to be tweaked and improved – but that's the passion of vintage car enthusiasts for you!
It was a very exciting project and one that we're proud to show off. A gorgeous car, a sympathetic yet premium classic car audio upgrade and a very happy customer. These results are spectacular.
At Enhance we have options for car audio upgrades to suit all types of vehicles and all budgets. Our recommendations and quotes are bespoke to you, your car and your price range. Please get in touch with us via our online contact form or give us a call at 01622 737393 to discuss your upgrade!