This Ford Kuga had heated seats fitted to both the driver and passenger seats. We don't usually need to remove the seats themselves, the heated pads are inserted in both the base and rear of the seat from the back of the seat.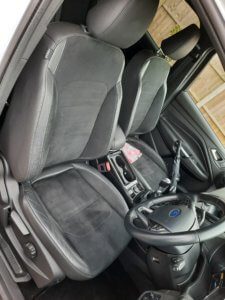 The location of the button can be discussed with your technician, in this instance it is on the front corner of the seat. Some vehicles can have the heated seat button added to the centre console (see Fiat heated seats here).
It's not usually possible to add the heated seat button to an OEM (original equipment manufacture) location in the vehicle as there isn't enough space for the wiring.
Our heated seats are a universal fitting of either 2 or 4 pads per seat depending on the seam locations in the seat. The pads have carbon filament with a fast warming time and equal heat distribution.
The heated seat button is a "rocker" switch with three settings; high, low and off.
An electronic thermostat is built into each pad to regulate the electricity and temperature within the carbon fibre pad.
You can see a demonstration time lapse of a heated seat installation here:
You can also see another Ford Kuga here.
And a mini cooper here.
If you would like any other information please feel free to contact us or call 01622 737393.